David E. Jensen, Architect
Specializing in the Arts and Crafts style, Traditional Shingle style and Northwest style, the firm designs homes that are rich in detail with a focus on quality design and sound construction practices. Jensen says,
| | | |
| --- | --- | --- |
| | The practice of architecture provides a service to the client, and we try hard not to lose sight of this simple fact. We intend to avoid preconceived notions about style, and develop style only after meeting with the clients and fully understanding their needs. Using design skills and experience, we then translate the clients' desires into a structure that is both functional and aesthetically pleasing. Simplicity of form with careful attention to detail provides a successful combination of function and noteworthy architecture. | |
Jensen strives to minimize land usage, while maximizing individual privacy by carefully siting living areas and windows. Layering of spaces creates a sense of privacy within individual spaces. Maintaining visual connection within commonly shared spaces makes the individual areas feel larger because they share visual space. Jensen's designs emphasize dual use of space to further optimize efficiency and resident's comfort.
Natural lighting emphasizes handcrafted wood interiors. Coloration of the walls, woodwork and flooring are often natural, emphasizing the warmth and softness of sunlight. Jensen selects quality materials that survive the test of time to create enduring design. In addition, environmental impact is considered during material selection.
Many homes created by Jensen withstand the rigors of the demanding seaside environment yet still maintain attractive design principles. Working in the northwest coastal area has provided the experience in the adverse impact of northwest coastal weather conditions. Jensen combines building techniques, thoughtful design and environmental building materials in ocean front buildings to successfully withstand weather conditions.
David Jensen, a native of the Pacific Northwest, has been practicing residential and commercial architecture in Washington and Oregon since graduating from the University of Oregon in 1977. Jensen interned with influential northwest architect Ralph Anderson of Seattle, WA. Jensen's work has been featured in Sunset Magazine.
Jensen's firm is located in the coastal town of Long Beach, Washington. The four-person firm is headed by Jensen a registered architect, maintaining licenses in Oregon and Washington. Additional staff include two intern architects, one a recent U of O graduate, the other having satisfied the required internship work experience and completed several sections of the architectural exam, and a designer, who is a CAD specialist. The firm offers services in architectural design and consulting, project management, as well as historic preservation, planning, zoning and code consulting. LEED (Leadership in Energy and Environmental Design) services are also available. With experience ranging from new and remodeled residences, to commercial and public works projects, Jensen strives to create a built environment that enriches the lives of the people working and living within.

Craftsman Bungalow and Ilwaco Kitchen Featured in Magazines (Click image for link to article)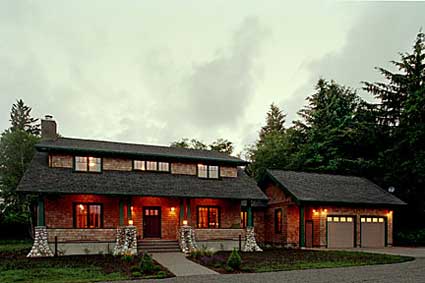 Craftsman Bungalow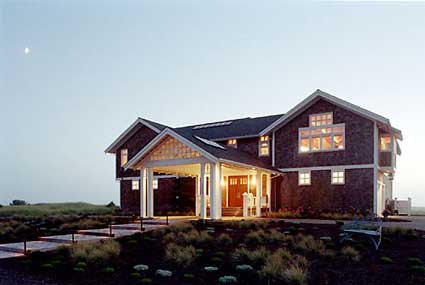 Butterfly Shores Residence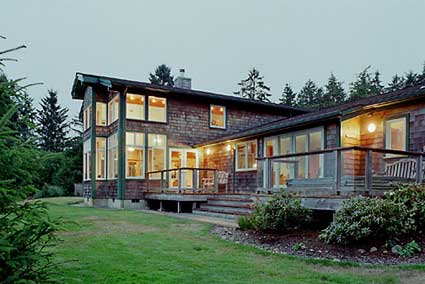 Willapa Residence
Oceanside Retreat